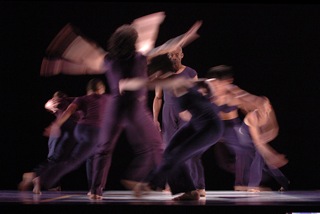 Dance Program and Hannah Arendt Center present:
Thought and Action
A public conversation with Bill T. Jones and Roger Berkowitz
Wednesday, December 1, 2010
Fisher Center, Sosnoff Stage
7:00 pm – 8:00 pm

This event occurred on:
Wed. December 1, 7 pm
THOUGHT AND ACTION
Bill T. Jones and Roger Berkowitz,
The Life of the Mind and Floating the Tongue
In her 1978 work, The Life of the Mind, thinker Hannah Arendt outlines the distinction between mental and physical activity and discusses the nature of consciousness. In the same era, Mr. Jones created Floating the Tongue, a solo improvisation that seeks to reveal the activity of the mind as the body moves, delving into the experience of consciousness. A live performance of this seminal work will be the touchstone for a discussion of the philosophy of thought, action, and consciousness as it relates to the world of art and the act of creating.

Roger Berkowitz, Associate Professor of Political Studies and Academic Director of the Hannah Arendt Center for Ethical and Political Thinking joins Mr. Jones for this discussion.
More information Here