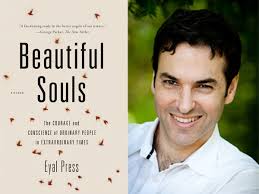 Courage To Be: Lecture and Dinner Series, with Eyal Press
The Courage to Refuse
Monday, February 16, 2015
Kline, Faculty Dining Room
6:00 pm

This event occurred on:
Mon. February 16, 6 pm
"At the center of our moral life and our moral imagination are the great models of resistance – the great stories of those who have said 'No.'" So observed the writer and political activist Susan Sontag. But what impels individuals to say "no" when thrust into ethically compromising situations? What qualities of character enable some people to risk their careers, and sometimes their lives, to avoid complicity in evil? What price is paid for displays of moral courage, and how effective are such acts in preventing abuses like the ones described in the recent Senate report on torture (which a few courageous intelligence officers refused to carry out)? In the inaugural lecture of Bard's Courage to Be Program, author Eyal Press will probe these questions by drawing on his recent book,
Beautiful Souls
, a study of what animates individual acts of courage and conscience in dangerous circumstances. From the Balkan wars to the occupied territories to the recent US financial crisis, Press will discuss how and why ordinary people sometimes refuse to go along with corruption and wrongdoing.
R.s.v.p. Required. Invitation-Only
Seating is Limited.
Date: 2/16/2015
Location: Kline Commons, Faculty Dining Room
Eyal Press
is a writer based in New York. His work has appeared in the
New York Review of Books
,
The New York Times Magazine
,
The Atlantic, The Nation,
and the
Raritan Review
. He is the author of
Beautiful Souls: Saying No, Breaking Ranks and Heeding the Voice of Conscience in Dark Times
(2012), and
Absolute Convictions
(2006), a narrative account of the abortion conflict. He is a past recipient of the James Aronson Award for Social Justice Journalism.
The Courage To Be Lecture and Dinner series brings students, scholars and experts in diverse fields together to attend to the question of the foundation of moral and spiritual courage in an age when the traditional religious grounds of such courage are said to be weak. These lectures are coordinated with the curricular initiative for students enrolled in the course, "The Practice of Courage."