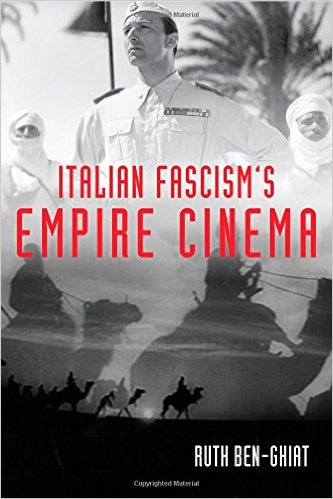 Italian Studies Program, Historical Studies Program, and Hannah Arendt Center present:
Italian Fascism's Empire Cinema
A lecture by Ruth Ben Ghiat
Thursday, September 24, 2015
Reem-Kayden Center Laszlo Z. Bito '60 Auditorium
6:00 pm – 8:00 pm

This event occurred on:
Thu. September 24
Italian Fascism's Empire Cinema (Indiana University Press, 2015) by Prof. Ruth Ben Ghiat (New York University) is the first in-depth study of the feature and documentary films made during Mussolini's dictatorship about Italy's African and Balkan occupations. The fruit of research in military and film archives, it focuses on the dramatic years between the invasion of Ethiopia (1935-1936) and the loss of the colonies (1941-43) during World War Two. Promoted and created at the highest levels of the regime, empire films were Italy's entry into an international marketplace of colonial and exotic offerings, and engaged many of Italy's emerging filmmaking talents (Roberto Rossellini) as well as its most experienced and cosmopolitan directors (Augusto Genina, Mario Camerini). Shot partly or wholly in Libya, Somalia, and Ethiopia, these movies reinforced Fascist racial and labor policies: their sets were sites of violence and of interracial intimacies. Like the imperial histories they recount, they were largely forgotten for most of the postwar period.
Ben Ghiat will present her recent study which restores these films to Italian and international film history, and offers a case study of the intertwining of war and cinema and of the unfolding of imperial policy in the context of dictatorship.
Respondent: Joseph Luzzi
Moderated by Franco Baldasso