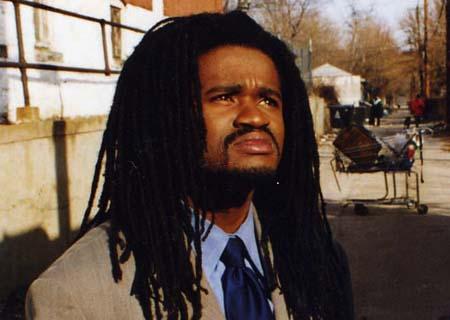 Hannah Arendt Center presents:

Courage To Be College Seminar Dinner & Lecture Series, with Reverend Osagyefo Uhuru Sekou
The Courage to Rebel: Ferguson, Faith and the Future of American Democracy
Monday, February 22, 2016
Kline, Faculty Dining Room
6:00 pm – 8:00 pm

This event occurred on:
Mon. February 22, 6 pm – 8 pm
The Courage to Rebel: Ferguson, Faith and the Future of American Democracy with Reverend Osagyefo Uhuru Sekou.

TOPIC: As humanity has entered into a global age of Ferguson, this lecture will wrestle the role of religion and spirituality in our contemporary social movement and explore the possibility of a truly democratic civilization that may emerge in the aftermath of the American empire.
BIO:
St. Louis raised activist, theologian and author, the
Reverend Osagyefo Uhuru Sekou
is a third generation Pentecostal preacher and long time organizer, author and activist. He was a 2014 Visiting Scholar at Stanford University's
Martin Luther King Education & Research Institute
when police shot and killed Michael Brown Jr in Ferguson, Missouri. The Rev. Sekou travelled to Ferguson a week later on behalf of the
Fellowship of Reconciliation
, where he currently serves as the inaugural Bayard Rustin Fellow).
During his time in Ferguson, the Reverend helped train many hundreds in civil disobedience and non-violent resistance, and has traveled nationally and globally to speak, organize, hold trainings and mass meetings. He has studied continental philosophy at the New School, systematic theology at Union Theological Seminary, religion at Harvard and lectured widely. In May 2015, the Reverend moved back to St Louis full time to organize with local groups in the ongoing struggle for racial justice, economic and social equality and an end to police brutality.
He is the author of two collections of essays: '
urbansouls
', a meditation on working with at-risk youth in Saint Louis, hip hop & religion; and '
Gods, Gays, and Guns: Essays on Religion and the Future of Democracy
'; as well as the forthcoming 'Riot Music: Hip Hop, Race, and the Meaning of the London Riots.'
After an auspicious meeting with San Francisco Bay Area singer-songwriter-instrumentalist and
#SayHerName
activist Jay-Marie Hill in 2015 (the two met in Cleveland following
The Movement for Black Lives
gathering when Rev. Sekou washed pepper spray off Jay-Marie's face), Rev. Sekou and the Holy Ghost was formed. 'The Revolution has Come' - an album borne of struggle, gospel, blues, faith and freedom songs - was penned in just a week, and is due for release in January 2016.
*R.s.v.p. Required/Invitation-Only
NOTE: A small number of seats will be available for the Lecture ONLY potion of the evening, beginning at 6:30pm. This will be on a First Come First Serve Basis. Please rsvp for the Lecture Only to
[email protected]
Date: February 22
Time: 6pm
Location: Kline, Faculty Dining Room
*Students enrolled in the Courage To Be College Seminar are required to attend. The Courage To Be Lecture and Dinner series brings students, scholars and experts in diverse fields together to attend to the question of the foundation of moral and spiritual courage in an age when the traditional religious grounds of such courage are said to be weak. These lectures are coordinated with the curricular initiative for students enrolled in the course, "The Practice of Courage." More about the Courage To Be program and the College Seminar,
here.