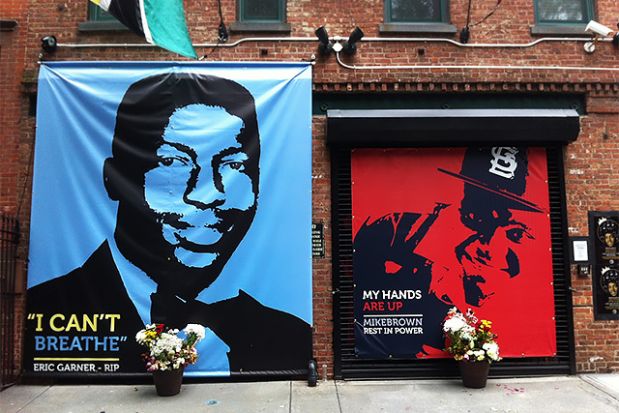 Hannah Arendt Center presents:
Lunchtime Talk with Hannah Arendt Center Post Doctoral Fellow, Samantha Hill
"I Can't Breathe": The Respiring Body & The Politics of Breath
Wednesday, April 6, 2016
Arendt Center
12:30 pm – 1:30 pm

This event occurred on:
Wed. April 6, 12:30 pm – 1:30 pm
"I Can't Breathe": The Respiring Body & The Politics of Breath
Eric Garner was killed on July 17, 2014. The official cause of death was "Compression of neck (chokehold), compression of chest and prone positioning during physical restraint by police." Garner was approached by police officers for allegedly selling single cigarettes without a tax stamp, in violation of New York State law. When an officer tried to put handcuffs on him, he resisted, and said, "Don't touch me, please." In violation of NYPD regulations, the responding officer put Garner in a chokehold from behind and forced him to the ground. Video of the arrest shows Garner flanked by five police officers, his face pressed into the sidewalk, crying: "I can't breathe." According to reports, when Garner lost consciousness the officers turned him onto one side to ease his breathing. Motionless, handcuffed, and unresponsive, several minutes passed before the ambulance arrived. Aside from a police offer who advised an unconscious Garner to "Breathe in, breathe out" no attempt was made to resuscitate him. The police later defended their decision to not perform CPR because they said he was 'still breathing', and you can't resuscitate someone who is still breathing.
Since his death, Garner's last words—"I can't breathe"—have become a political rallying cry and indictment against oppressive force used by police officers. It is a metaphor for the un-checked use of force by those in authority. And it is a metaphor for the way many Americans feel—suffocated. Garner's words embody a political moment in America, and although they were spoken in the most literal way possible as he was slowly choked to death, they gesture toward something essentially human.
This talk will explore the relationship between
breath
and political life. Well before Eric Garner's last words became a political slogan, the idea of breath suffused political texts. Garner's statement, his plea, represents both the physical and the metaphoric state of political oppression. Today, the absence of breath is a metaphor for repressive society, the inability to move, and the encroachment of totalitarian practices. What is the spirit that animates democratic political action? What moves us to respond to the political wounds of oppression, violence, and hatred?
BIO:
Samantha Rose Hill received her PhD in Political Science from the University of Massachusetts Amherst in 2014. Her research and teaching interests include critical theory, the Frankfurt School, aesthetic theory, poetic thinking, and German literature. Hill is currently working on two manuscript projects. The first, Into the Dark: Poems of Hannah Arendt, is a dual-language compilation and introduction to Arendt's poetry. The second project, stemming from her dissertation "The Promise of Mourning," examines the relationship between loss, mourning, and melancholia to the work of political theory through Hannah Arendt, Walter Benjamin, and Theodor Adorno. This project seeks to intervene in contemporary discussions around Antigone and recognition by turning away from traditional conceptions of political action. Previously Hill conducted post-doctoral work at the Institut für Philosophie at the Goethe-Universität in Frankfurt am Main and served as a visiting lecturer at Amherst College in Spring 2013. She will be teaching in the Political Studies Program.
Invitation only
​Light Refreshments will be served
Location: Hannah Arendt Center, Seminar Room
(MAP)