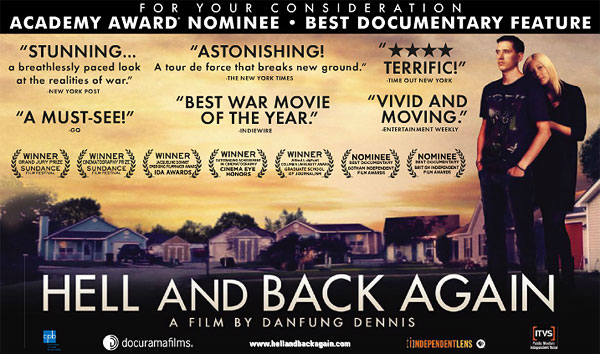 Hannah Arendt Center presents:
Hell and Back Again: Movie Marathon at the Hannah Arendt Center!
Start Times: 10 am, 12:15 pm, and 4:30 pm
Monday, April 25, 2016
Arendt Center
10:15 am – 6:30 pm

This event occurred on:
Mon. April 25, 10:15 am – 6:30 pm
About the Film:
What does it mean to lead men in war? What does it mean to come home? Hell and Back Again is a cinematically revolutionary film that asks and answers these questions with a power and intimacy no previous film about the conflict in Afghanistan has been able to achieve. In this groundbreaking work of cinema, two overlapping narratives are brilliantly intercut the life of a Marine at war on the front, and the life the same Marine in recovery at home, creating both a dreamlike quality and a strikingly realistic depiction of how Marines experience this war.
Following Sergeant Nathan Harris of Echo Company, 2nd Battalion, 8th Marine Regiment, during a major assault on a Taliban stronghold, and his painful return home after a severe injury, the two stories communicate both the extraordinary drama of war and the no less shocking experience of returning home, as a whole generation of Marines struggle to find an identity in a country that prefers to be indifferent.

Watch the Trailer: HERE



At 6pm, in the Faculty Dining Room, the center will host a lecture by the director, Danfung Dennis.
To learn more about this special event, click here.

PRESS:
"Top 10 Films of 2011: Dennis jumps back and forth between this supremely potent fighter in the middle of a war he doesn't understand and the agonized and impotent man at home with a new, tragic perspective." --New York Magazine and NPR's Fresh Air, David Edelstein

"A tour de force...HELL AND BACK AGAIN stacks one astonishing shot atop the next: perfectly composed tracking sequences in the heat of battle; saturated moody low-light compositions in rainy North Carolina parking lots; gorgeous rich soundscapes" -- The New York Times, Michael Kamber

LOCATION:
Seminar Room at the Hannah Arendt Center
1448 Annandale Road
Annandale-On-Hudson, NY 12504

SHOWTIMES:
10:15 am
12:15 pm
4:30 pm

Light Refreshments will be served.