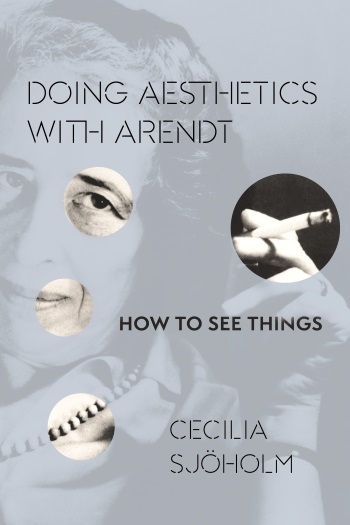 Hannah Arendt Center presents:
"Intertwinements - Rethinking Politics and Aesthetics in Hannah Arendt's Work" with Special Guest: Cecilia Sjöholm
Tuesday, April 19, 2016
Reem-Kayden Center Laszlo Z. Bito '60 Auditorium
6:30 pm

This event occurred on:
Tue. April 19, 6:30 pm
Cecilia Sjöholm reads Hannah Arendt as a philosopher of the senses, grappling with questions of vision, hearing, and touch even in her political work. Constructing an Arendtian theory of aesthetics from the philosopher's fragmentary writings on art and perception, Sjöholm begins a vibrant new chapter in Arendt scholarship that expands her relevance for contemporary philosophers.
Arendt wrote thoughtfully about the role of sensibility and aesthetic judgment in political life and on the power of art to enrich human experience. Sjöholm draws a clear line from Arendt's consideration of these subjects to her reflections on aesthetic encounters and works of art mentioned in her published writings and stored among her memorabilia. This delicate effort allows Sjöholm to revisit Arendt's political concepts of freedom, plurality, and judgment from an aesthetic point of view and incorporate Arendt's insight into current discussions of literature, music, theater, and visual art. Though Arendt did not explicitly outline an aesthetics, Sjöholm's work substantively incorporates her perspective into contemporary reckonings with radical politics and their relationship to art.
ABOUT:
Cecilia Sjöholm
is professor of aesthetics at Södertörn University. Her research focuses on issues in phenomenology and aesthetics, with a particular emphasis on the history of aesthetics and its relation to politics. Her books include
Regionality/Mondiality: Perspectives on Art, Aesthetics, and Globalization
(with Charlotte Bydler);
Kristeva and the Political
; and
The Antigone Complex: Ethics and the Invention of Feminine Desire
.
Date: April 19
Time: 6:30pm
Location:
The Gabrielle H. Reem and Herbert J. Kayden Center for Science and Computation
Room: Reem-Kayden Center Laszlo Z. Bito '60 A
uditorium
[RKC 103]
MAP
Free & Open to the Public!