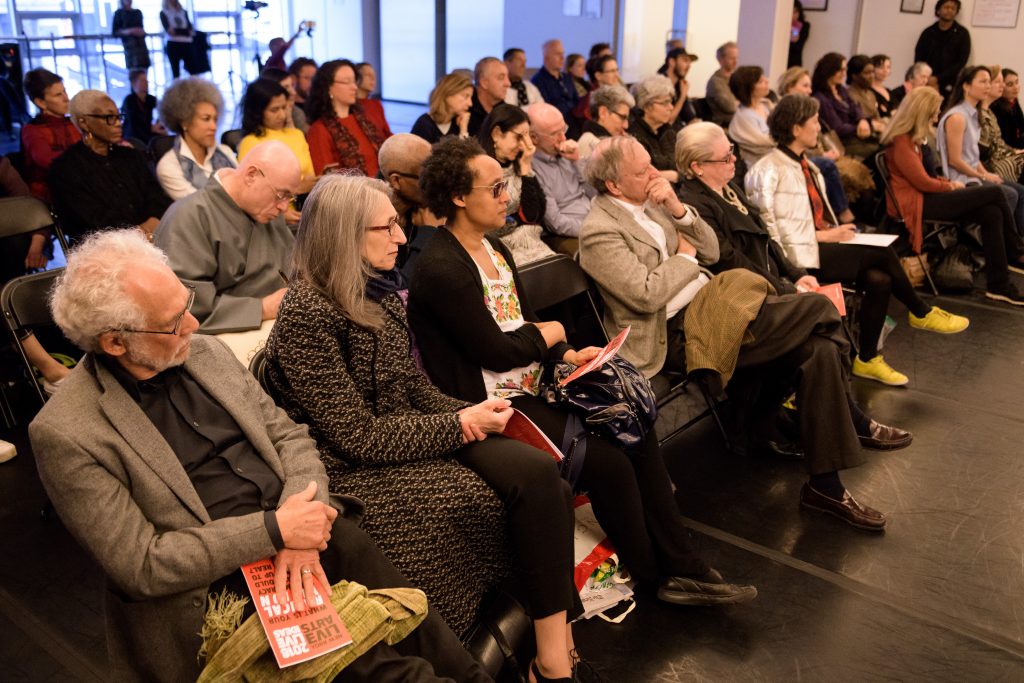 Radical Vision
Cocurated by Brian Tate and New York Live Arts in partnership with the Hannah Arendt Center for Politics and Humanities at Bard College
Wednesday, April 18, 2018 – Sunday, April 22, 2018
New York, NY

This event occurred on:
Wed. April 18 – Sun. April 22
WHEN:
April 18–22, 2018
WHERE:
New York City
Buy three or more and get 20% off using code PICK3 2018. Buy five or more and get 30% off using code PICK5 2018. This offer cannot be combined with member discounts and is not applicable to events with suggested donations.
To view the full schedule and more information, click
HERE
.
Email:
[email protected]
Phone:
212-691-6500
Radical Vision
is informed by a desire to find the temerity to change the things we cannot accept. How do we not simply protect democracy but make it stronger? What are new (radical) ways forward—ways that go to the roots of our current democratic crisis? The festival will present five days of activity around the idea of an open society, to imagine its future and understand its past. Through public forums, performances, readings, and workshops, we will conduct a forward-looking, critical appraisal of key democratic institutions, including the press, technology corporations, criminal justice, and the electoral process.
Live Ideas is an annual humanities festival of arts and ideas, exploring the ideas, controversies, and thinking informing a different bodily oriented theme each time out. Past festivals have included
The Worlds of Oliver Sacks
,
James Baldwin
,
This Time!
,
SKY-Force
,
Wisdom in America Today
(curated by Laurie Anderson), and
MENA/Future-Cultural Transformations in the Middle East North Africa Region
.
The festival's keynote is a conversation moderated by Bill T. Jones, followed by public conversations about the role of the press in an endangered democracy; reinvigorating or abandoning our electoral process; ways forward for democracy in the digital age; the current state and future vision of criminal justice in America; and more.
Performances include Dahlak Brathwaite's hip-hop dramatic soliloquy Spiritrials; master storyteller and monologist Mike Daisey's The End of Journalism; a variety show hosted by Drag King Elizabeth (Macho) Marrero featuring Joseph Keckler, Saul Williams, and others; a theatrical reading of The Secret Court, written by members of the Plastic Theatre; and Prayers of the People, a secular liturgical performance inspired by Martin Luther King's writing, directed by Bill T. Jones.
A special highlight is a hands-on workshop on how to participate in government, led by Fordham law professor, political activist, and former New York gubernatorial candidate
Zephyr Teachout
.
Opening each day, artists, activists, and thinkers will read seminal texts on democracy by such radical visionaries as Hannah Arendt, James Baldwin, Cesar Chavez, Frederick Douglass, Audre Lorde, Harriet Tubman, Yuri Kochiyama, Gloria Anzaldúa, Berta Cáceres, Grace Lee Boggs, Harvey Milk, Henry David Thoreau, Alexis de Tocqueville, and others. For details on the festival program,
see the full schedule here
.
Roger Berkowitz will be participating in two separate panel discussions during the event, highlighted below:
April 20, 5:30 pm
The Press + The Resistance
Thomas Jefferson wrote that if forced to choose between "a government without newspapers or newspapers without a government, I should not hesitate a moment to prefer the latter." A free press was so important to the Founding Fathers that they included its protection in the First Amendment, alongside free speech. With the three branches of our government now controlled by one party, does the Fourth Estate—the press—have a higher obligation to hold the government accountable? Or do those circumstances make the independence and impartiality of the press even more important than before? Should the press even attempt a neutral stance when the institution of journalism, and journalists themselves, are attacked and delegitimized by the executive branch? Join reporter and political/cultural analyst
Farai Chideya
,
Bret Stephens
, and
Roger Berkowitz
for a conversation moderated by
Rebecca Carroll
on the role of the press in an endangered liberal democracy. Tickets are $10.
Purchase tickets here
.
April 21, 3:15 pm
By the People?
Are free and open elections at odds with the democratic process? In the face of gerrymandering, voter suppression, campaign finance abuse, election tampering, and a disillusioned electorate, is now the time to reinvigorate our electoral system, or get rid of it? What are the alternatives? Join us for a talk with
Alexander Guerrero
and Belgian writer
David Van Reybrouck
, who suggest we abandon the traditional methods and use lotteries to select our officials.
Roger Berkowitz
, cocurator and director of the Hannah Arendt Center, will moderate this discussion as we explore how Sortition and Lottocracy may actually work. Tickets are $10.
Purchase tickets here
.
View video of the past festivals on New York Live Arts'
YouTube channel.