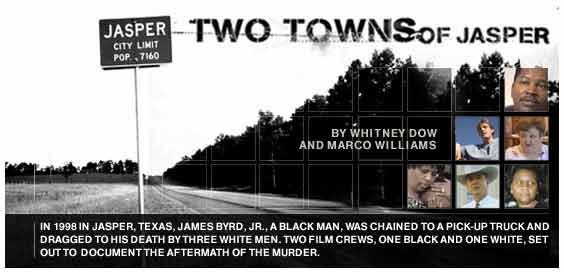 Two Towns of Jasper Film Screening
Wednesday, March 7, 2018
Campus Center, Weis Cinema
7:00 pm

This event occurred on:
Wed. March 7, 7 pm
About the Film :
In 1998 in Jasper, Texas, James Byrd, Jr., a black man, was chained to a pick-up truck and dragged to his death by three white men. The town was forever altered, and the nation woke up to the horror of a modern-day lynching. In
Two Towns Of Jasper
, two film crews, one black and one white, set out to document the aftermath of the murder by following the subsequent trials of the local men charged with the crime. The result is an explicit and troubling portrait of race in America, one that asks how and why a crime like this could have occurred.
Two Towns of Jasper is not so much about the murder of James Byrd, Jr., as it is about two perspectives on the murder," adds director Whitney Dow. "The facts, after all, weren't in doubt. It's a question of how you explain those facts. Listening to the black and white communities of Jasper talk about the crime turned out to be a pretty startling revelation of the depth of the division that exists between black and white Americans."
Revelatory and sobering, the film ultimately invites intense and often provocative discussions about race in America; its history, its future and most importantly, how the question of race plays out in our daily lives.
Watch the Trailer HereAbout the Director:

Whitney Dow
is a documentary filmmaker, producer, director, and educator working on issues of race and identity. His directorial credits include:
Two Towns of Jasper; I Sit Where I Want: The Legacy of Brown v. Board of Education, Unfinished Country;
and
When the Drum is Beating
. His producer credits include:
Freedom Summer; Banished: How Whites Drove Blacks Out of Town in America , The Undocumented, Toots
and
Among the Believers
. Dow teaches interactive storytelling in the Integrated Media Arts (IMA) MFA program at CUNY Hunter College and has a Research Scholar appointment at Columbia University's Interdisciplinary Center for Innovative Theory and Empirics (INCITE). He is currently working on the Whiteness Project, a story-based interactive project that examines 'how Americans who identify as white, or partially white, understand and experience their race'.
This screening is brought to you by the
Courage To Be
student fellows at the Hannah Arendt Center as part of the Practice of Courage film series.
Date :
Wednesday, March 7th
Time :
7 P.M.
Location :
Weis Cinema, Bertelsmann Campus Center
Free & Open to the Public