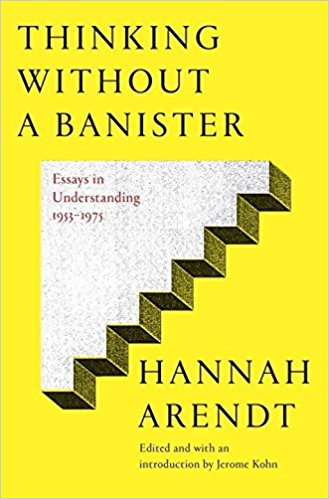 Book Presentation with Jerome Kohn: Thinking Without a Banister: Essays in Understanding, 1953–1975, in conversation with Thomas Wild
Thursday, April 12, 2018
Olin, Room 102
6:00 pm

This event occurred on:
Thu. April 12, 6 pm
Please join us for a book presentation with Jerome Kohn, editor of Thinking Without a Banister, in conversation with Thomas Wild.
The title refers to Hannah Arendt's description of her experience of thinking, an activity in which she indulged without any of the traditional religious, moral, political, or philosophic pillars of support. The book's contents are varied: the essays, lectures, reviews, interviews, speeches, and editorials, taken together, manifest the relentless activity of her mind as well as her character, acquainting the reader with the person Arendt was, and who has hardly yet been appreciated or understood.
"This second volume of some 40 essays, interviews, conference presentations, acceptance speeches, letters and reviews, edited and introduced by Arendt scholar Kohn, reveals a wide focus, including the relationship of theory to practice, American elections, the Cold War, freedom, civic responsibility, and happiness…. [Arendt] emerges as startlingly prescient: in an interview in 1973, for example, she emphasized that a free press is crucial in a democracy…. A challenging, densely argued, provocative collection." —
Kirkus Reviews
Date: Thursday, April 12
Time: 6 pm
Location: Olin Hall, Room 102
Free and open to the public
MAP
Co-sponsored by the
German Studies Program
at Bard College