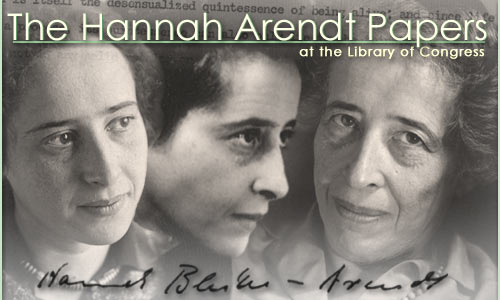 Hannah Arendt Center presents:
A Celebration of the Relaunch of the Hannah Arendt Papers at the Library of Congress
Hosted by Roger Berkowitz and Featuring: Barbara Bair, Thomas Wild, Barbara Hahn, Thomas Bartscherer, Wout Cornelissen, and Samantha Rose Hill
Wednesday, June 16, 2021
Online Event
12:00 pm – 1:30 pm

This event occurred on:
Wed. June 16, 12 pm – 1:30 pm
The Library of Congress has been actively at work converting the
Hannah Arendt Papers digital site
to its new open access format, which will make the collection of Hannah Arendt's papers more widely and more easily accessible through the Library of Congress Web site. In addition to the new format, the Library of Congress has worked to clear rights for many of the folders in the Arendt Papers that previously were only available in-person at the Library itself. In the new version of the Arendt Papers on the website, the vast majority of Arendt's papers and correspondence will be accessible.
To celebrate the relaunch of the Hannah Arendt Papers on the Library of Congress Website, please join us for a panel discussion on Arendt's archive. Barbara Bair of the Library of Congress will walk us through the new digital archive on the Library's website. Thomas Wild and Barbara Hahn will speak about the ongoing work on the Hannah Arendt Critical Edition. Thomas Bartscherer and Wout Cornelissen will present on their new edition of The Life of the Mind for the Critical Arendt Edition and speak about how the Arendt archive contributed to their work. Samantha Rose Hill speak about her new biography on Hannah Arendt and her use of the archives.