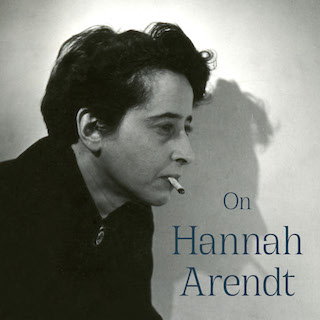 Hannah Arendt Center presents:
On Hannah Arendt: Virtual Reading Group - 'The Crisis in Education' with Griselda Pollock
Wednesday, August 11, 2021
Online Event
1:00 pm – 2:30 pm

This event occurred on:
Wed. August 11, 1 pm – 2:30 pm
A virtual reading group in collaboration between Richard Saltoun Gallery and the Hannah Arendt Center to accompany the gallery's year-long exhibition programme 'On Hannah Arendt'. Led by Roger Berkowitz, Founder and Director of the Hannah Arendt Center, the next event in the series will discuss Arendt's essay 'The Crisis in Education' from her 1968 publication 'Between Past and Future'. The essay will be introduced by Griselda Pollock, acclaimed author, feminist art historian and academic.
The discussion is held on the occasion of a joint exhibition of the same name featuring work by Eleanor Antin and Siân Davey, on view in London from 3 August until 11 September.
By registering for this event, you will be automatically added to our mailing list. Should you wish to opt out, please email
[email protected]
Roger Berkowitz
Founder and Director @Hannah Arendt Center
Founder and Academic Director of the Hannah Arendt Center and Professor of Politics, Philosophy and Human Rights, Roger Berkowitz writes and speaks about how justice is made present in the world. He is author of The Gift of Science: Leibniz and the Modern Legal Tradition, co-editor of Artifacts of Thinking: Reading Hannah Arendt's Denktagebuch (2017), Thinking in Dark Times: Hannah Arendt on Ethics and Politics (2010), The Intellectual Origins of the Global Financial Crisis (2012) and editor of the annual journal HA: The Journal of the Hannah Arendt Center. Berkowitz is the 2019 recipient of the Hannah Arendt Award for Political Thought given by the Heinrich Böll Stiftung in Bremen, Germany.



Griselda Pollock
Griselda Pollock is an internationally acclaimed writer, academic, art historian and cultural analyst of international, postcolonial feminist studies in the visual arts and visual culture. Based in the United Kingdom, she is known for her theoretical and methodological innovation, combined with readings of historical and contemporary art, film and cultural theory. Since 1977, Pollock has been one of the most influential scholars of modern, avant-garde art, postmodern art, and contemporary art and has been a major influence in feminist theory, feminist art history and gender studies. Her 1988 book, 'Vision and Difference: Feminism, Femininity, and Histories of Art', a study of women's role in shaping modern art as it is known today, is considered essential for the way it considered gender alongside class and larger economic factors.