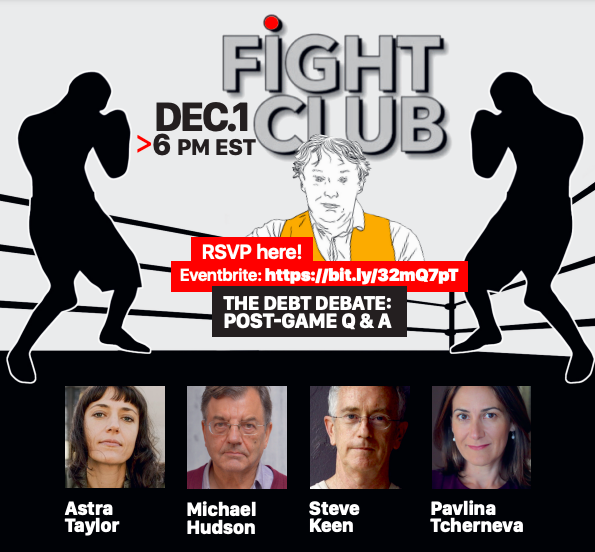 Hannah Arendt Center and Economic Democracy Initiative present:
Fight Club: The Great Debt Debate (Post-Game Q&A)
Wednesday, December 1, 2021
Online Event
6:00 pm – 8:00 pm

This event occurred on:
Wed. December 1, 6 pm – 8 pm
RSVP on Eventbrite!
Welcome to the Fight Club!
Nika Dubrovsky, widow of the late David Graeber, has established
"The Fight Club"
to keep David's unique way of challenging conventional wisdoms alive. Each "Fight" will pit leading advocates, thinkers and visionaries against each other.
The inaugural fight was a debate between the renowned economists Thomas Piketty, author of "Capital in the Twenty-First Century", and Michael Hudson, author of "And Forgive Them Their Debts". You can
watch it here.
Join us for a follow up Q & A session with Hudson, Bard's Pavlina Tcherneva, and Steve Keen of Debunking Economics. Astra Taylor will moderate. They will discuss: what is money and what is debt? What are the most serious problems of today's finance-capital economies? And what are the best remedies? Come with your questions!
Event is collaboration between the Hannah Arendt Center,
Museum of Care,
and the
Economic Democracy Initiative
at Bard College.
RSVP on Eventbrite!