Fellowships for Bard College Undergraduate Students
The Hannah Arendt Center hires student fellows for the Courage to Be Program, the Thoughtful Tough Talks, the Sortition Institute, and as media and communications interns. Interested in becoming a fellow? Email us at [email protected].
Administration Fellows
Administration Student Fellows play a vital role in upholding the seamless functioning of the center's day-to-day operations. Their support extends to both the Executive Director and the HAC staff, encompassing a diverse range of responsibilities. These dedicated fellows contribute significantly to the preparation of the annual fall conference, ensuring its success. Furthermore, their involvement in the membership program lends a helping hand to its efficiency. In addition, administration fellows provide research support as needed. In essence, administration fellows are instrumental in maintaining the center's operational effectiveness.


Sage Saccomanno
From Sandpoint, Idaho, Sage Saccomanno is a senior at Bard, majoring in chemistry. Sage throws herself into everything. Her past includes being a part of a curated team of student leaders organizing the world's largest youth-led event of its kind: the Count Me In Global Student Leadership Summit held annually in Toronto. Not to mention, she lived in Todi, Italy, during her junior year of high school on a Rotary Youth Exchange, experiencing much of Europe and learning to speak Italian. In addition, Sage acted as an ambassador of her community for several years as Miss Teen Rodeo promoting the community, goodwill, and service. This past year, Sage also founded her own sustainable clothing brand, Bigger Brain, with a mission to empower youth to continue on with their higher education. (mybiggerbrain.com) Sage's hobbies include kayaking, hiking, back-country skiing, and horseback riding. When she is not in a class, you can probably find her running, working out, or hanging out with pups.
Chair of Student Fellows
The Student Fellows Chair supervises the Courage to Be Fellows in organizing the Courage To Be Lecture Series, Autonomies Fellows, and/or other gatherings with members of the campus and local community. Both groups, the Courage to Be Fellows and the Autonomies Fellows, work closely with the Director of Academic Programs.
Maggie Hough
Maggie is a senior at Bard College majoring in Classical Studies. Her work at the Hannah Arendt Center began in 2021 with an interest in the question of how we can seek to embrace plurality in our society as a source of progression, rather than a road block, and her interest in politics and the work of Hannah Arendt has only expanded since then. During her time at Bard she has served as a member of the Peer Review Board, a member of the Classics and Philosophy Club, contributed as a translator to Sui Generis, and directed an outdoor production of The Tempest. She is now working on a senior project influenced by Hannah Arendt's The Life of the Mind. Beyond her academic pursuits, Maggie enjoys hiking, photography, hosting and attending dinner parties, and going to museums.
Kai-Lin Kwek-Rupp
Kai-Lin is a second year student studying Politics and Economics. She loves occasions that bring people together; her favorites are family dinners, soccer games, and live music. At the Hannah Arendt Center, she is excited to connect stories and lived experience with academic discourse to create nuanced, interesting, and generative conversations.
Adriana Želmira Ondrejka
Adriana is a second year student looking to moderate in Historical Studies. She chose Bard due to the open and independent nature of its environment, as well as its dedication to the arts. At the Hannah Arendt Center she hopes to use her skills and energies to further the program's mission as well as help grow the Bard community.
Julia Kiernan
Julia is a second year student, looking forward to moderating into Written Arts with a focus in poetry. Her other academic interests include theology, continental philosophy, and Russian language. She has worked in special collections and archives at the Watkinson Library at Trinity College, Hartford, and as a research assistant at Bard. As a student at Bard, her interest in poetry has flourished, and she is excited to find ways to bring people together with a passion for experimenting with language. She is motivated by a deep passion for words and their many complexities, and she hopes to work with the Hannah Arendt Center to investigate the ways in which language can create open, collaborative, and loving spaces on campus.



Autonomies Fellows
This student-led speaker series confronts the present moment as a crisis of autonomy. It highlights contemporary social movements, amplifies voices outside of the academy, and realizes spaces for action. Cries for self-determination and self-governance have never been as vocal as today. At the same time, infringements on political, legal, and bodily autonomy seem to form the persistent backdrop for a culture of curated individualism and the search for collective forms. Autonomies proposes that autonomy exists in the plural; autonomy not as individualism but as community care, as collective resistance against discrimination and marginalization. The series highlights contemporary social movements, amplifies voices outside of the academy, and realizes spaces for action.
Lauren Mendoza
Lauren is a second year student who was drawn to Bard because of its promise to allow students to explore all of their interests through its liberal arts education. The curriculum's flexibility has led her to joint major in Physics and Philosophy, and the Hannah Arendt Center allows her to explore her more philosophical interests alongside fellow academics with the same interests as her. She works with the Arendt Center now to give others the space to do the same. In her free time, Lauren loves to crochet, play video games, read and weightlift.
Nick Franceschi
Nick is a first-year, hoping to double-major in music and critical theory. He was born and raised in South Tyrol, a European province with a complex history of oppression, discrimination and ethnic hate. Having to negotiate between the different socio-cultural and linguistic environments at home and at school, Nick developed early on a sensitivity to injustice and marginalization. He is among the founders of "Radici Resilienti", a student-let organization in Trieste, Italy, aimed at welcoming and aiding refugees, and has worked for Doctors Without Borders in Berlin, Germany, in the sections of fundraising and advocacy. Nick prides himself on being among the founders and leaders of "Homophobie Ist Keine Meinung", a South Tyrolean youth organization fighting queerphobic hate speech in local media. In his free time, Nick loves reading, walking, and watching queer sci-fi shows.Nick Franceschi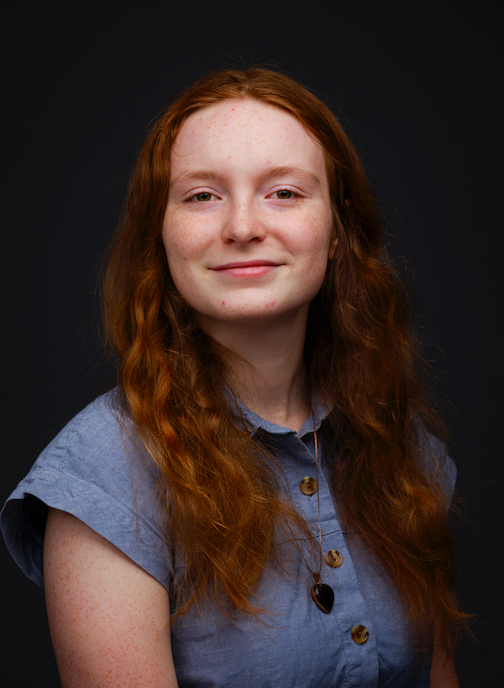 Cherry Handforth
Cherry Handforth is a junior at Bard majoring in photography. Her interests include darkroom photography, art history and visual culture. She wishes to explore The Hannah Arendt Center's ever flowing thinkers and the intersection between philosophy and the arts. Currently Cherry is a media fellow working on filming, editing, and photography.