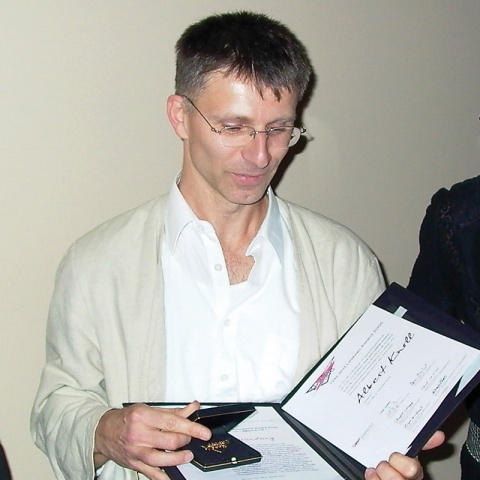 Albert Knoll, of the Dachau Archives, will be honored as Archivist of the Year
Presented by the Scone Foundation in collaboration with The Hannah Arendt Center for Politics and Humanities at Bard College
Monday, October 26, 2015
BGC (38 West 86th NYC)
6:30 pm

This event occurred on:
Mon. October 26, 6:30 pm
The special event will take place in Manhattan on Oct. 26, 2015, 6.30pm, at the Bard Graduate Center at 38. West 86th Street, New York, NY, in conjunction with The Hannah Arendt Center for Politics and Humanities at Bard College. The Introductory Presentation will be by Professor Nikolaus Wachsmann, author of the acclaimed, new book, KL: A History of the Concentration Camps.
Honoree Albert Knoll, b. 1958, has served the mission of the Dachau Concentration Camp Memorial Museum since 1997. In addition to maintaining and expanding its archival work and databases, he has been instrumental in assisting relatives of former inmates as well as guiding researchers, scholars and authors around the world - including Awards Event speaker Nickolaus Wachsmann. Knoll has written articles on illegal photos, homosexual prisoners, contemporary Nazi press coverage of Dachau, etc, and contributed to the International Tracing Service's first scholarly yearbook. He has also organized international workshops on the gathering of data on all categories of National Socialist victims.
Guest Speakers: Prof. Nikolaus Wachsmann, author of the acclaimed book, KL: A History of the Concentration Camps. Additional guest speakers to be announced.
Past honorees of the Scone Foundation Award have included a joint award to Dr. Yehoshua Freundlich, Director of the Israel State Archives and Mr. Khader Salameh, Director of the Al-Aqsa Mosque; Conrad Crane (Director of the U.S. Army Military History Institute at Carlisle Barracks); Dr. Saad Eskander (Baghdad National Archives); and Nancy Dupree (Director of the Afghanistan Center at Kabul University).
About the Scone Foundation: Scone Foundation is a nonprofit organization founded by Stanley Cohen. The Foundation has presented its "Archivist of the Year" award annually since 2005, focusing on archivists who - among other topics - have assisted scholars on such wide-ranging topics as resisting censorship, preserving historical memory and fostering humanitarian dialogue.

PRESS RELEASE

Location:
Bard College Graduate Center
38 W. 86th St
New York, NY

Invitation Only, RSVP Required (Limited Seating)

Contact
:
[email protected]