Search News:
---
A Letter From Roger Berkowitz
The tradition of liberal constitutional democracy is on the defensive. Reinvigorating democracy requires more than platitudes; we must re-think and re-imagine democracy. In such an effort, there is no more invaluable guide than Hannah Arendt.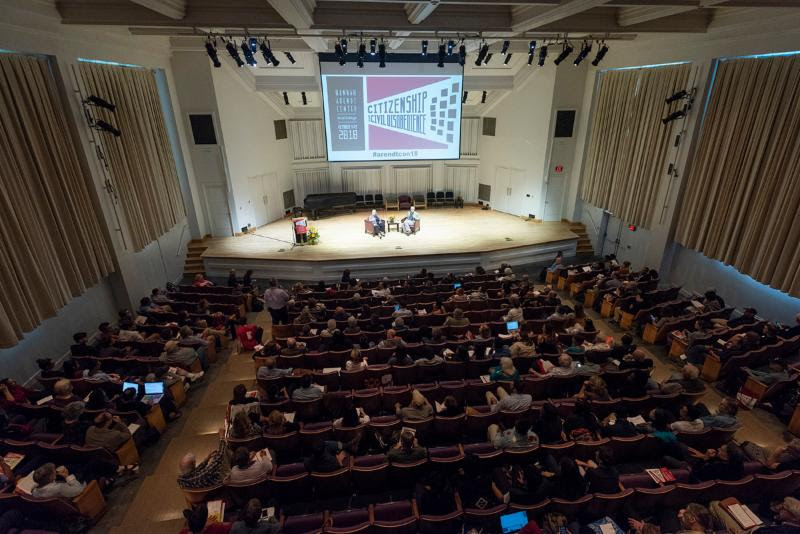 Our 11th Annual Conference, "Citizenship and Civil Disobedience," explored outbreaks of civil disobedience and what they mean for a meaningful politics. Theda Skocpol, Thomas Chatterton Williams, Kenyon Adams, Micah White, Chantal Mouffe, and more explored the rise of citizen engagement, from the Tea Party to the Trump Resistance movement, from peaceful democratic protests in South Korea to the recent wave of teachers' strikes in middle America. You can watch a complete video of the conference by clicking below.
In 2019 the Arendt Center will focus on the rising tide of hate sweeping across the globe. President Trump's ruthless cynicism reflects and draws out underlying currents of antisemtism and racism that persist in the US and abroad. Political dog whistling about globalists, the insulting of immigrants, and fear-mongering in general have emboldened antisemites and racists. Our annual Fall Conference, "Racism and Antisemitism," will build upon Arendt's understanding of antisemitism as a racist fantasy, a political ideology that justifies oppression, and even annihilation, of Jews as foreigners who instigate the problems of the world.
Arendt's approach to racism as an ideology begins with her distinction between racism and race thinking. Race thinking is an opinion, a prejudice. Prejudices are, of course, frequently wrong and dangerous. Yet, prejudices are deeply human and are "an integral part of those human affairs that are the context in which we go about our daily lives." Prejudices are part of the fabric of a plural world in which people prefer the company of some rather than others. It is better to acknowledge prejudice than engage in the dangerous and flattening rhetoric that denies fundamental differences. More importantly, Arendt reminds us that anti-racism cannot mean the elimination of all prejudices. Instead, politics is the activity of challenging and transforming unjust prejudices, which requires self-reflective thinking and judgment. Save the date:
The Hannah Arendt Center 12th Annual Conference
Racism and Antisemitism
Oct. 10-11, 2019
Members Attend Free!
A part of our democratic crisis is rooted in the increasing inability to speak with people with whom one disagrees. The Arendt Center's
Campus Plurality Forum (CPF)
aims to address this hyper-polarized national debate over free expression on campus by providing intellectual skills, effective tools, and replicable models to tackle the wide range of disputes that threaten to undermine democratic values such as: race and racism, gender and sexuality, political power and historical injustice, and socio-economic inequality. Toward that end, the Campus Plurality Forum is developing an integrated program of applied research, clinical courses, traveling workshops, and investigations of contested political, ethical, and cultural flashpoints.
The "Courage to Be" Seminars continue with incredible courses and lectures asking, how does one act with moral and political courage in a world increasingly defined by bureaucratic institutions that undermine responsibility? The 2019 Courage to Be Lecture Series will feature acclaimed community organizer and social entrepreneur, Rana Abdelhamid; CEO of Village Health Works and leading advocate for the most impoverished people, Deo Niyizonkiza; and Executive Director of Citizen Action New York, Karen Scharff.
What would it mean to refresh liberal-constitutional democracy in the 21st century? The Arendt Center has inaugurated a new institute dedicated to this very question. The Bard Institute for The Revival of Democracy through Sortition (BIRDS) aims to be a space for considering innovative projects that think creatively about citizen engagement in government. Our 2020 Annual Conference will focus on the strategies for Democratic Revival. If you want to learn more about sortition, you can watch this conversation we hosted with David van Reybrouck and Zephyr Teachout.
Our
Virtual Reading Group
continues as a regular series in which we engage our members in a vigorous and spirited conversation around selected texts from Hannah Arendt. This year, we examined essays from the recently published Thinking Without a Banister, edited by Jerome Kohn. In 2019 we will be reading Hannah Arendt's first book Rahel Varnhagen: The Life of a Jewess. The VRG is free and open to all new and renewing members.
Every Sunday, the Hannah Arendt Center releases its signature publication, Amor Mundi. We deliver essays, commentaries on current events, our Quote of the Week, videos, and selections from the HA journal directly to your inbox. Subscriptions are free to all who sign up.
Subscribe and read the latest edition of Amor Mundi here.
Our dedicated team at the center continues to grow. Roger Normand brings 20 years of experience in international human rights to lead the Arendt Center's effort to pluralize and deepen intellectual engagement through the Campus Plurality Forum. Mark Williams Jr., Bard College '18 who founded and led the Arendt Center's "Tough Talks" lectures, is working with Roger Normand to lead CPF Workshops at Bard and around the country. Craig Rothstein joins us as our Media Coordinator in charge of our websites and online programs. We also welcomed an incredible group of fellows: Senior Fellows include Wyatt Mason, Thomas Bartscherer, Ann Seaton, and Zephyr Teachout; The National Endowment for the Humanities/Hannah Arendt Center Distinguished Fellows are Micah White and Chiara Ricciardone; and the Klemens von Klemperer Post-Doctoral Fellow is Libby Barringer.
This year we added another stellar team of student fellows to our center: Misbah Awan, Livy Marie Donahue, Angela Woodack, Emily Walshin, Adrian Costa, Charlotte Albert, Saul Amezcua, Tyler Williams, and April Perin Wogenburg. We also welcome our returning student interns; Annah Heckman, Paris Adorno, and Sacha Medjo-Akona [Marketing Interns], Isabelle Emma Menuez Santana and Maeve Schallert [Program Fellows].
More than ever our world needs Hannah Arendt's fearless and bold inquiry into the political need to fight cynicism with active citizenship.
The Hannah Arendt Center is an intellectual space for passionate, uncensored, and non-partisan thinking that reframes and deepens the fundamental questions facing our world. We aim to nurture bold and provocative thinking that seeks, in the spirit of Hannah Arendt, to "think what we are doing."
Membership has its perks! The first 10 people to join at the $100 level will receive a free 2018 Conference T-shirt. All new and renewing members will receive a conference scout book too.
A large part of our annual budget, including our annual conference, is supported by contributions from members like yourself. Your support is necessary and deeply appreciated. We wish you a very thoughtful and provocative holiday season, and hope to see you at Arendt Center events in 2019!
Sincerely,
Roger Berkowitz
Academic Director
Hannah Arendt Center for Politics and Humanities at Bard College
Posted on 5 December 2018 | 4:15 pm
Back to News
---