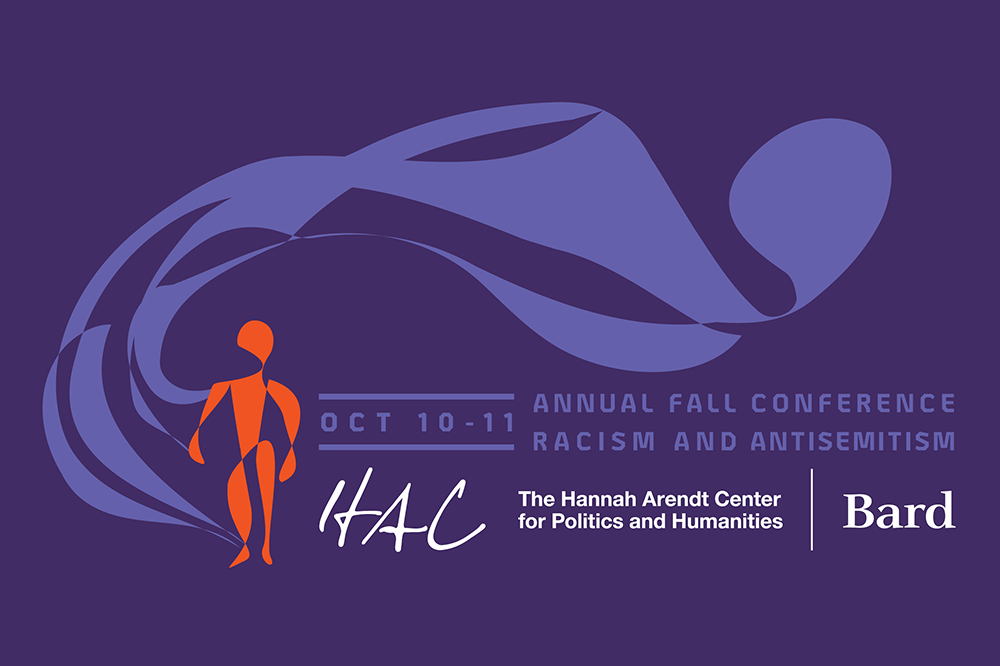 Racism and Antisemitism
Hannah Arendt Center Annual Fall Conference 2019
Thursday, October 10, 2019 – Friday, October 11, 2019
Olin Humanities Building
10:00 am – 6:00 pm

This event occurred on:
Thu. October 10, 10 am – Fri. October 11 – 6 pm
Racism and Antisemitism
A Conference Sponsored by
The Hannah Arendt Center at Bard College.
Thursday and Friday, Oct. 10-11, 2019
"Racism may indeed carry out the doom of the Western world, and, for that matter, of the whole of human civilization."
—Hannah Arendt
When Hannah Arendt sat down to write
The Origins of Totalitarianism
after spending over 10 years in exile, she began with a history of antisemitism. In order to understand the horrific emergence of totalitarianism, she had to confront the question of why the Jewish people had been targeted. She found the common sense explanation—that Jews were scapegoats—to be wrong. The scapegoat explanation, she writes, was "one of the principal attempts to escape the seriousness of antisemitism and the significance of the fact that the Jews were driven into the storm of the center of events."
Instead, Arendt argued that political antisemitism is more than Jew-hatred; rather, it is a pseudo-scientific ideology seeking to prove that Jews are responsible for all evils of the world. In its social form, anti-Semitism unleashed the fantasy of 'the Jew' in general as the foreigner. The social fantasy of 'the Jew' forced upon Jews a terrible choice between being a parvenu who rejects their Jewishness and assimilates, or a pariah defined by their Jewishness. In its political form, anti
s
emitism is a form of racial ideology that justifies oppression and even annihilation of Jews as foreigners who are the key to problems of the world.
Although Arendt is often accused of ignoring her Jewish identity, her work is consistently attentive to the Jewish question beginning with her early writing on Rahel Varnhagen, where she argues that Jews were faced with the cruel choice of becoming parvenus or pariahs. Captured by Nazis twice, forced to flee first to Germany and then to occupied France, she thought about how one could live in the world as a refugee and foreigner. One could either try to assimilate and cast off their history, or they could choose to carry their identity with them through the world and embrace their otherness. The former she wrote in "We Refugees" were destined to become Ulysses like wanderers, while the later had a chance at finding a form of peace in an unsettled world. Arendt's sharp distinction between pariahs and parvenus reflects her understanding of antisemitism and totalitarianism; ideologically antisemitism had partially been so successful because Jewish people were already freely shedding their Jewish identity, and she refused to do this.
When Arendt came to the United States as a stateless refugee, she began writing for small Jewish journals, and reflected upon the similarities and differences between racism in American and antisemitism in Europe. She called slavery the original sin of the America and called for a Constitutional amendment explicitly recognizing African Americans as full members of the American Republic. Arendt argued that racism is an ideology like antisemitism. It offers a pseudo-scientific justification for violence that elevates one group at the expense of another. And imagining that racial differences must lead to a race war means that "Racism may indeed carry out the doom of the Western world, and, for that matter, of the whole of human civilization."
In writing about racism in America, however, Arendt consistently made arguments that rubbed many in the Civil Rights community the wrong way. She distinguishes racism from race-thinking, which is a form of prejudice. Racial prejudice exists, like all prejudices, as "an integral part of those human affairs that are the context in which we go about our daily lives." She said clearly that racial prejudices are "probably wrong" and "certainly pernicious", but she also argued that they must be taken seriously as opinions. Racism, on the other hand, is an ideology that justifies political oppression and "differs from a simple opinion in that it claims to possess either the key to history, or the solution for all the 'riddles of the universe.'
From
The Origins of Totalitarianism
to
The Crises in Little Rock
Arendt's thinking on race is controversial and has often led many to quickly dismiss her thoughts on race and antisemitism entirely. The Hannah Arendt Center's 12
th
annual conference on "Racism and Antisemitism" will explore these oft shunned concepts in Arendt's work in the context of our contemporary political moment which is marked by antisemitic and racist violence.
Our conference will consider the following questions:
• What is Racism?
• Is antisemitism a form of racism?
• What does anti-racism mean today?
• Is it antisemitic to criticize the state of Israel?
• Is equality possible in a world where prejudice exists?
• How can we respond to racist fantasies?